---
Genre(s) Action, Romance, School, Sci-Fi, Shounen
Episode(s) Number of Episode is not yet announced.
Type Series
Date Released March 26 , 2012
Date Finished No Confirmation
Rating 9.49/10.00
---
Synopsis
The story revolves around a bullied middle school boy named Haruyuki. One autumn day in 2046, he has an encounter with Kuroyukihime, the prettiest girl in his school, that changes his life. Through a mysterious piece of software from Kuroyukihime, Haruyuki learns of the existence of the virtual ``Accel World.` In that moment, the lowest of the `school caste` becomes `Burst Linker` a knight defending a princess.
Reserved by : Sora Kasugano
---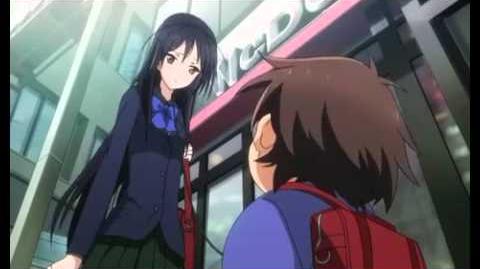 [Spoiler]

---
---
Alternative Title(s) Sword Art Online
S.A.O, SAO
ソードアート・オンライン
---
Genre(s) Action, Adventure, Fantasy, Game, Romance, Sci-Fi, Shounen
Episode(s) 25
Type Series
Date Released June 24 , 2012
Date Finished No Confirmation
Rating 9.79/10.00
---
Synopsis
The only way to escape is to 'clear' the game. Death in game means actual 'death' ---- The ten thousand who have logged onto the as of yet mysterious game 'Sword Art Online' using their Nerve Gear have been forced into this perilous death game and are trapped inside. Protagonist Kirito, one of the many gamers, has greeted this 'truth'. He plays as a solo player in the giant castle that is the stage for this game ---- 'Aincrad'. To meet the conditions of clearing the game and leaving this twisted virtual world, he must get through all 100 floors. Will Kirito have what it takes to clear the game, or will he die trying? (Source: Mangafox)
Reserved by : Sora Kasugano
---