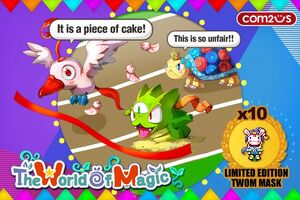 In this page, we will post competitions that will be held either on twom or here in the wikia.
Competitions will include:
-- Trivia Competition
-- PK Competition
-- Leveling Up Competition
-- and more coming soon...
Trivia CompetitionEdit
Soon we will post a trivia competition which includes...well....trivia. The one who answers most of the questions correctly will be awarded. In case of a tie at the end, a tie-breaker will be issued. Reward provided by badbob159.
Rewards:
-- A pet (to be decided)
-- other
Trivias:
PK Competition [Discontinued]Edit
This competition is all about pking (player killing). The one who kills the most sirans wins. Keep in mind that this competition is still on the works.
Note: This competition has been discontinued due to the new update that makes red names and black names permanent for a set amount of time.
Rewards:
-- 20k of gold
Leveling Up CompetitionEdit
More info will come soon..
Rewards:
-- A pet (to be decided)
Community content is available under
CC-BY-SA
unless otherwise noted.